I am a lawyer by professional specializing in Corporate affairs and Contract Management. With respect to professional career I am an advocate high court, having membership with Sindh Bar Council and Karachi Bar Association, with regular presence in front of honorable judges of District Courts and High Court. In addition to that I am a senior associate at SA Associates. The firm is a consultancy business at core but has other branches such as dispute resolution, intellectual property etc.
I started my law career back in 2013 when I joined a renowned advocate, Mr. Ijaz Ahmed. Under his supervision I mostly handled civil and intellectual property cases. One of the big cases on which I assisted him was a copyright infringement case between a record label and a radio station. Other than that I assisted in corporate matters such as mergers, acquisitions, due diligence etc.
After a stint of 1.5 years with Mr. Ijaz Ahmed, I switched to Sanofi Pakistan Limited, a multinational pharmaceutical company, in 2014 in a contractual capacity where I over saw implementations of new policies, amending contracts and implementation few standard contracts in their Industrial Relations departments.
I joined SA Associates in 2015 and from thereon I immersed myself in growing the firm business. Over the period of time, our firm has seen an exponential growth and we have a mixture of clients representing various sectors such as DHA Karachi, Bahria Foundation, Trax Online, Iffco Pakistan, International Brands Limited, Dollar Industries, Souvenir Tobacco, Mal Pakistan, etc.
With respect to academic career, I have done my Olevels from DA Public School, my Alevels as a private candidate. I chose Law as my profession during the lawyer movement which reinstated Justice Iftikhar Chaudhry and did my LLB from University of London through its international programme locally tutored by SZABIST. Seeing the requirements of consultancy business I opted for my MBA from Institute of Business Management.
In terms of achievements, from a very young age I liked being indulged in student body positions and taking part in competitions such as debating, dramatics etc. I was head of debating and dramatics team in my Olevels, became a Mooting Manager in by University days. (Moots are an integral part of skill development in Law colleges). I was adjudged best Mooter in my first year of university.
I have been a part of teaching professional for more than 10 years now. I started teaching in a professional capacity in my first year of University which was in 2010-2011, from a primary school by the name of The Intellect. From there I stepped into Alevel teaching in private centers such as AIMS, Inspire and Anees Hussain. I started teaching in SZABIST from 2016, then stepped in to IoBM in 2017. Right now I am part of Ziauddin University Faculty of Law, IQ School of Finance and Institute of Business Management in teaching capacities.
I also have vast training experience having trained, on different legal aspects, in Institute of Business Administration, SZABIST, TMUC etc. I have successfully guided various entrepreneurs through their legal journeys and consider them well established as of now.
Apart from all the above, I am an accredited mediator and had completed my training in 2018. Along with that I am a member of steering committee of Young Arbitrators Group of Center for International Investments and Commercial Arbitrations. I am a member of Singapore International Arbitration Center and Hong Kong International Arbitration Center.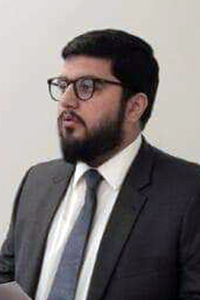 Hamza Nizam Kazi is an experienced corporate lawyer having experience in advising to various companies, conglomerates and telecom industry and advising digital startups. Moreover, Hamza is an Advocate High Court, contract specialist and supply chain professional, having experience of drafting and advising on various commercial/supply chain contracts. He has experience in providing legal support on commercial, supplier contracts and contract negotiations including service level agreements relating to service sector. He has been associated with Ernst & Young, Cybernet (Lakson Group), YB Holdings (Lucky Cement Group), Multinet Pakistan and currently working as Head of Legal & Company Secretary for Jaffer Brothers group. He is also a visiting faculty member at Institute of Business Management (IoBM), Karachi and have been associated with other universities as visiting faculty.
Hamza is also a member of Campaign for Green Arbitration MENA Sub-Committee an initiative to reduce the environmental impact of international arbitrations and Steering Committee Member for Young Arbitration Group ("YAG") for The Center for International Investment and Commercial Arbitration (CIICA) which is Pakistan's first international arbitration center.
Hamza writes for various online blogs and magazines including Profit Pakistan and has articles published which can be accessed (https://profit.pakistantoday.com.pk/author/hamza-nizam-kazi/) Hamza can be reached on hamza.n.kazi@gmail.com for advice on legal and corporate businesses matters pertaining to the corporations, telecom sector and electronic media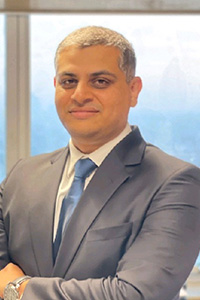 Ramsha Banuri is qualified as an Advocate of the High Courts of Pakistan and has worked on a number of dispute resolution matters, particularly of corporate and commercial nature. She regularly carries out transactional and corporate advisory work and engages with several regulatory bodies. 
Ramsha has played a key role in representing companies, trusts and other organizations in matters pertaining to intellectual property, contractual and shareholders' disputes, as well advising clients on matters relating to the oil and gas industry, tax, public procurement and telecommunication. 
In her corporate and commercial practice Ramsha has been involved in several incorporations, mergers, restructuring of companies under the relevant company laws in Pakistan, as well as carrying out asset acquisitions and due diligence for a multinational conglomerate.
Along with assisting on several constitutional matters in the Supreme Court of Pakistan on cases including election matters, Ramsha also frequently engages with regulatory bodies, such as the Securities and Exchange Commission of Pakistan (SECP), Pakistan Information Commission (PIC), National Electric Power Regulatory Authority (NEPRA) and the Competition Commission of Pakistan (CCP). 
Ramsha is also well versed with national and international arbitration laws and recently gave a talk and co-authored a paper on the legal framework governing foreign arbitral awards in Pakistan. Ramsha holds an LL.B. (Honors) degree from the University of London and an LL.M. in International Law from SOAS, University of London.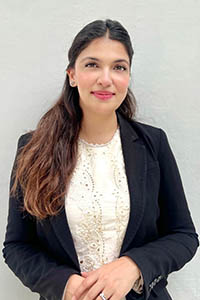 Maroof Rafique is a qualified lawyer with an LLM qualification from the University of Cambridge. Maroof is based in London working as a commercial & investment associate. In addition, Maroof has been serving as a Chapter Co-Founder for Pakistan at Energy-Related Arbitration Practitioners (ENERAP), assisting the Editorial Board of 'mADR Broadcast', coaching the Law School of Quaid-I-Azam University Islamabad for Vis Moot Competitions, and acting as the Managing Board Administrator for MetaverseLegal.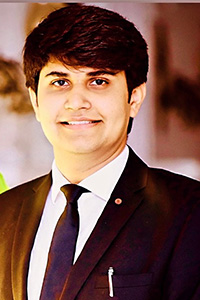 Raza Hassan is a lawyer with 10 years of experience in corporate transactional work and litigation. He has a proven track record of success in a variety of areas, including civil litigation, banking law, and mergers and acquisitions. Raza is a graduate of University of London and is also a Certified Mediator of ADR-ODR International UK, recognized by the Singapore International Mediation Institute.
Currently, Raza is working at OPay, a FinTech backed by SoftBank and Sequoia, as their Head of Legal for Pakistan. He has also worked on major mergers and acquisitions transactions where he has advised employers and clients on all aspects of these transactions, including due diligence, drafting and negotiating agreements, and closing. He is well-versed in the law of mergers and acquisitions and has a deep understanding of the financial and strategic considerations that drive these transactions.
Over the years, Raza has represented clients in a wide range of complex commercial disputes. He has successfully litigated cases in trial and appellate courts, and has has also negotiated settlements and mediation agreements. He is skilled in all aspects of civil litigation, including discovery, trial preparation, and appellate advocacy.