YAG TRAINING WORKSHOP – MARCH, 2022 (KARACHI)
We were happy to see an enthusiastic response to YAG's training workshop on the fundamental principles and practice of arbitration organized in collaboration with Ziauddin University. There were a total of 55 attendees, 45 of them attending in person and 10 online. Attendees had the opportunity to learn from and engage with the trainers who shared their practical insights and experiences in the field of arbitration.
Since this was YAG's first training workshop in Karachi, we look forward to organizing more such workshops to build the capacity of law students and young lawyers and quipe them with practical skills to practice both domestic and international arbitration.
We would like to thank Ziauddin University Law School for hosting us and making excellent arrangements to ensure the workshop was a success! We would also like to thank Young ICCA and the China International Economic and Trade Arbitration Commission (CIETAC) as supporting organizations of this workshop.
Training workshop: Fundamentals of Arbitration and the Legal Framework for Domestic and International Arbitration in Pakistan
YAG in collaboration with Ziauddin University is organizing a training workshop in Karachi this Saturday on the fundamental principles and practice of arbitration. It will be conducted in a hybrid format, both in-person and online.

We are pleased to have Young ICCA and the China International Economic and Trade Arbitration Commission (CIETAC) as supporting organizations of this workshop and well-recognized arbitration practitioners from Karachi, London, Beijing, Dubai and Singapore as the trainers/faculty members.

This workshop is free for YAG members and students of Ziauddin University. To learn more about the workshop and registration, please see the flyer below.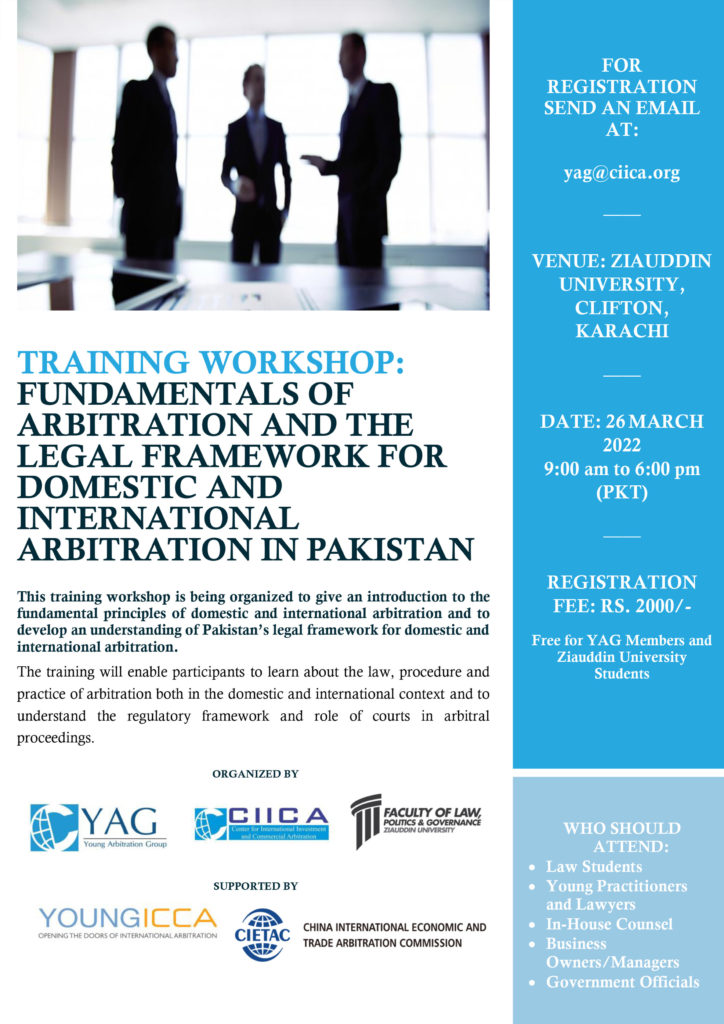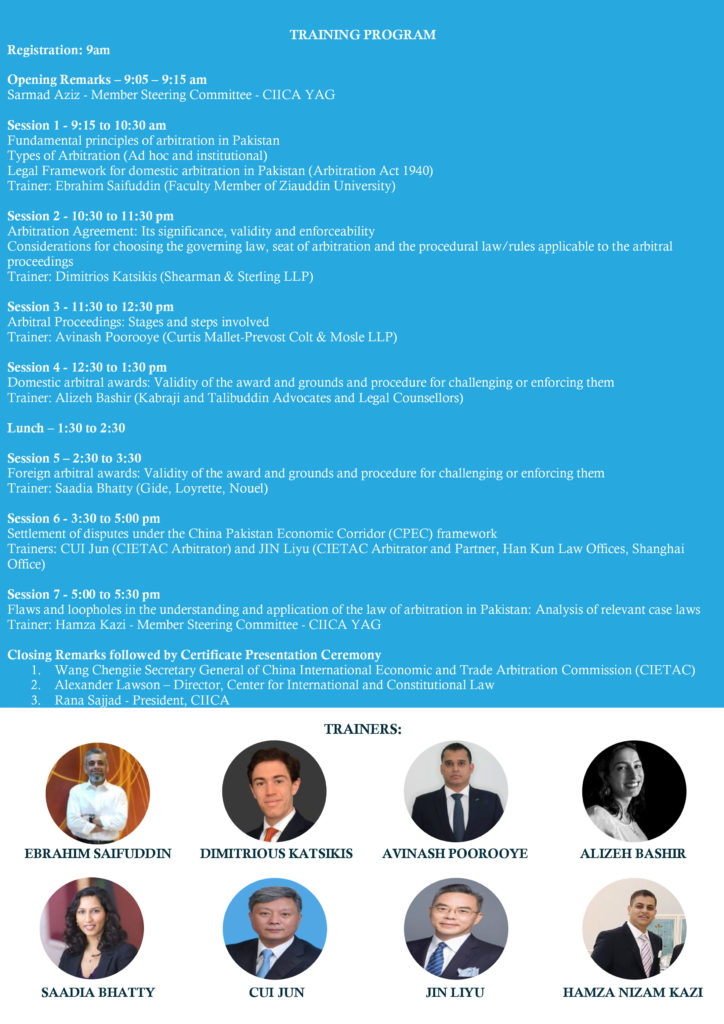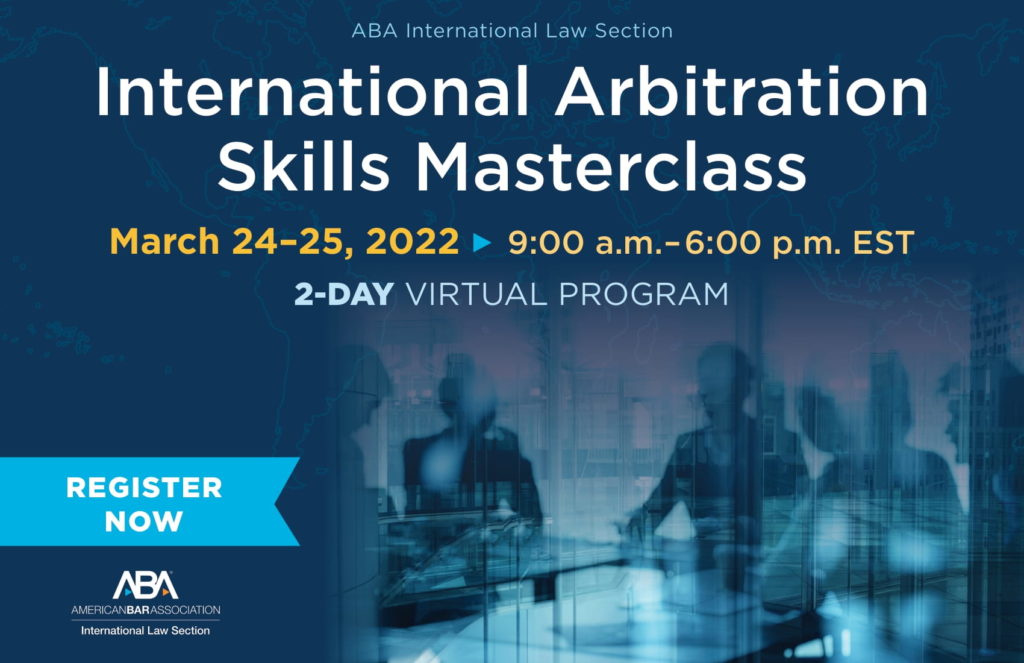 YAG is pleased to be a supporting organization of the "International Arbitration Skills Masterclass" that is being organized on March 24th and 25th by the International Law Section of the American Bar Association (ABA).

The Masterclass offers young practitioners hands-on experience and a chance to interact with experienced international arbitration practitioners. This year's Masterclass features:
1. Theory sessions (panel discussions), presented by some of the world's leading international arbitrators and arbitration practitioners; and
2. Practice sessions on all aspects of an arbitration hearing, which will give participants the opportunity to cross-examine live witnesses and experts (from leading consultancy firms), and present to arbitrators (from among our faculty of seasoned practitioners and arbitrators).

YAG members who are interested in attending will be given a 40% discount on the registration fee and can send an email at yag@ciica.org for the discount information.

For the Masterclass details and registration, please follow this link: https://lnkd.in/e2kz8mAk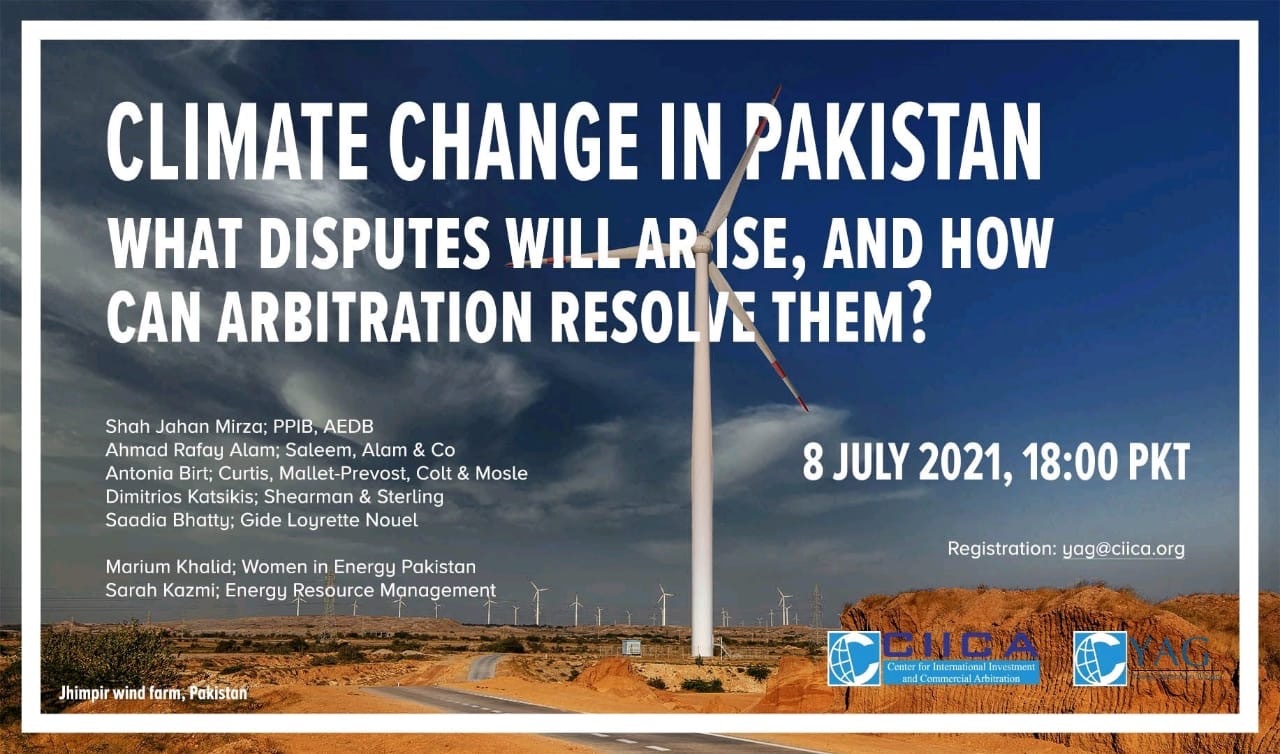 CIICA YAG Webinar Series
CIICA invites lawyers, business owners, government officials, arbitration practitioners, in-house counsel, academics and law students to join a series of webinars to discuss current and emerging topics related to resolution of commercial and investment disputes.  Most of the initial topics for this inaugural webinar series have been chosen to cater to the evolving needs of parties to a dispute and discuss innovative solutions include online dispute resolution to adapt to these fast-changing times amidst the Covid-19 pandemic both within Pakistan and around the world.
Please register for each live webinar you are interested in below.