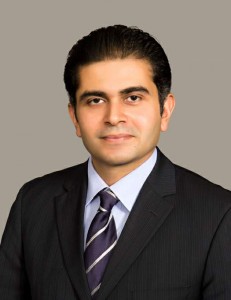 Founder & President, CIICA
Fellow of The Chartered Institute of Arbitrators (CIArb)
Partner, Rana Ijaz & Partners (Law firm)
Advocate High Court, Pakistan
Member, New York Bar
Member, Approved Faculty List (AFL) of CIArb 
LL.M. Columbia University, New York
Professor, International Commercial Arbitration
Career summary
Rana Sajjad is a dual-qualified lawyer (licensed in New York and Pakistan) having over 15 years' experience of practicing law in Pakistan and the U.S. He has advised clients in the energy, technology, telecom, manufacturing and retail sectors on business establishment, corporate structuring, licensing, regulatory compliance, labor and foreign exchange controls. In the area of contracts, he has advised clients on EPC contracts, franchise agreements and joint venture agreements. He has also represented clients before courts and arbitral tribunals in matters involving contractual and commercial disputes.
He is one of only two practising lawyers in Pakistan who have attained fellowship of The Chartered Institute of Arbitrators (CIArb). He is also the only lawyer in Pakistan who is a member of the Approved Faculty List (AFL) of CIArb for domestic and international arbitration law, practice and procedure.
Before joining the Lahore-based law firm of Rana Ijaz & Partners in September, 2008, Sajjad worked in the U.S. for some leading large law firms including Fulbright & Jaworski.  His practice areas in the U.S. included international commercial arbitration, securities & capital markets, antitrust law and mergers & acquisitions.
Selected publications
"Pakistan's Legal Framework for International Arbitration and Seminal Judgments of the Supreme Court" (International Journal of Arab Arbitration Volume 9 – No. (2) 2017
"BRI and CPEC: Dispute resolution mechanisms" (Tribune, March 2018)
"CPEC: ABCs of commercial investment dispute resolution" (Tribune, November 2017)
"The disaster of international arbitration of RPPs" (Tribune, September 2017)
"Building the capacity of lawyers" (Tribune, May 2017)
"Reko Diq case" (Dawn, Apr 2017)
"Legal ramifications of India's unilateral withdrawal from IWT" (Tribune, Oct 2016)
"Reko Diq arbitration: Can there be a settlement?" (Tribune, Aug 2015)
"Importance of international arbitration" (Tribune, May 2015)
"Amending laws to allow Chinese investment" (Tribune, Jan 2014)
"Reko Diq: the other side" (Dawn, Feb 2013)
"Do lawyers really want to resolve disputes?"(Tribune, Oct 2012)
"Reko Diq muddle" (Tribune, Feb 2012)
Recent speaking engagements and training programs 
"The Malaysian Institute of Arbitrators 5th Annual Law Review & Conference", Asian International Arbitration Centre (AIAC), Kuala Lumpur, Malaysia, August 2018
"HR Confluence 2018", Workshop on negotiation strategies and Alternative Dispute Resolution (ADR) Methods, LUMS, Lahore, April 2018
"Vision for Justice: 2027", 3rd Provincial Judicial Conference organized by the Sindh Judicial Academy, Karachi, January 2018
"Innovation and Improvement in the Service of E-Commerce Dispute Settlement", The 2nd Global Cross-Border E-Commerce Summit, Hangzhou, China, November 2017
"Arbitration and Legal Drafting" Lahore High Court Bar Association training workshop, Lahore, October 2017
"Written Advocacy in International Arbitration", Young International Council for Commercial Arbitration (ICCA) training workshop, Lahore, April 2017
"Roundtable Conference on Arbitration 2016", Lahore, December 2016
"Comparative Study on Legal Education and Ethics in Two Islamic Neighbor Countries: Current Situation and Future Perspectives", International Legal Ethics Conference VII 2016, New York, July 2016
"Contracts in International Trade and Commerce", Karachi Chamber of Commerce, Karachi, September 2015
Law teaching experience
Teaches LL.M. students and has designed and taught courses in International Commercial Arbitration and Legal Research & Writing for Commercial Lawyers.
Taught courses in Pakistani securities laws and the U.S. Constitution.