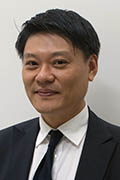 Choh-Ming Li Professor of Law, The Chinese University of Hong Kong Barrister, International Member, Keating Chambers, London Honorary Senior Fellow, British Institute of International and Comparative Law 
Visiting Appointments
·       Visiting Professor, Dickson Poon School of Law, King's College London (current)
·       Lionel Astor Sheridan Visiting Professor, National University of Singapore (2015)
·       Scholar-in-Residence, World Trade Organization, Geneva (2013)
Chin Leng Lim
is a member of the English and Singapore Bar. He is currently the Choh-Ming Li Professor of Law at The Chinese University of Hong Kong, was previously Professor of Law and a member of the Court and Senate of the University of Hong Kong, and recently completed a maximum three terms on the Hong Kong SAR's Committee on Pacific Economic Cooperation. He is a Visiting Professor at King's College London and Honorary Senior Fellow of the British Institute of International and Comparative Law. He practices from Keating Chambers, London as arbitration counsel, and sits as an arbitrator. He began his career in the United Kingdom before leaving law teaching at Queen Mary & Westfield College to serve as a United Nations lawyer in Geneva dealing with Gulf War reparations. He was subsequently counsel to Singapore in its commercial and investment treaty negotiations before returning to full-time academic life.
Visiting Appointments
·       Visiting Professor, Dickson Poon School of Law, King's College London (current)
·       Lionel Astor Sheridan Visiting Professor, National University of Singapore (2015)
·       Scholar-in-Residence, World Trade Organization, Geneva (2013)                  
Recent Publications
·       The Cambridge Companion to International Arbitration, with a Foreword by Lord Neuberger (forthcoming)
·       Lim, Ho and Paparinskis on International Investment Law and Arbitration (Cambridge, 2018) with a Foreword by Gaillard;
·       Alternative Visions of the International Law on Foreign Investment (Cambridge, 2016)
·       The Trans-Pacific Partnership (Cambridge, 2012) with Elms and Low. 
Work experience
He has advised and acted for corporations and individuals in complex commercial disputes, and for governments, corporations and individuals in foreign investment and a variety of treaty matters. He has particular experience in negotiating, drafting and interpreting treaties, and in advising on how commercial and investment treaties apply to and affect contractual obligations, investments and business operations. This has included advice on territorial application or where reservations, declarations and treaty succession issues have been involved. He has been nominated to act as arbitrator on several occasions and is admitted to the HKIAC's List of Arbitrators in Hong Kong and also empaneled by the KLRCA/AIAC in Kuala Lumpur, SHIAC in Shanghai, and the SCIA in Shenzhen. 
Types of work have included:
Sole arbitrator, institutional arbitration involving consultancy services in the energy sector
Acting for a global fund in resisting the recognition and enforcement of a foreign judgment in a Middle Eastern conduit jurisdiction (hundreds of millions USD)
Acting for a mining company in a shareholder dispute in DIFC-LCIA arbitration (tens of millions USD)
Advice on the arbitration agreement in an international distribution contract
Advice on the United Nations Convention on Contracts for the International Sale of Goods
Advising on a cross-border investment in the Far East
Advice on sovereign sanctions and their application to commercial dealings
Advice on a Far Eastern bilateral treaty
Expert opinion on private international law in a complex commercial and financial dispute in the Far East (tens of millions USD)
Advising a national government on issues arising from on-going multilateral commercial and investment treaty negotiations
Advising a national government in a maritime boundary/energy resource matter